JM Hardware® Concrete Bolt/ Screw Anchor/ Confast Screw/ Masonry Screw/ Consert Screw/ Wedge Bolt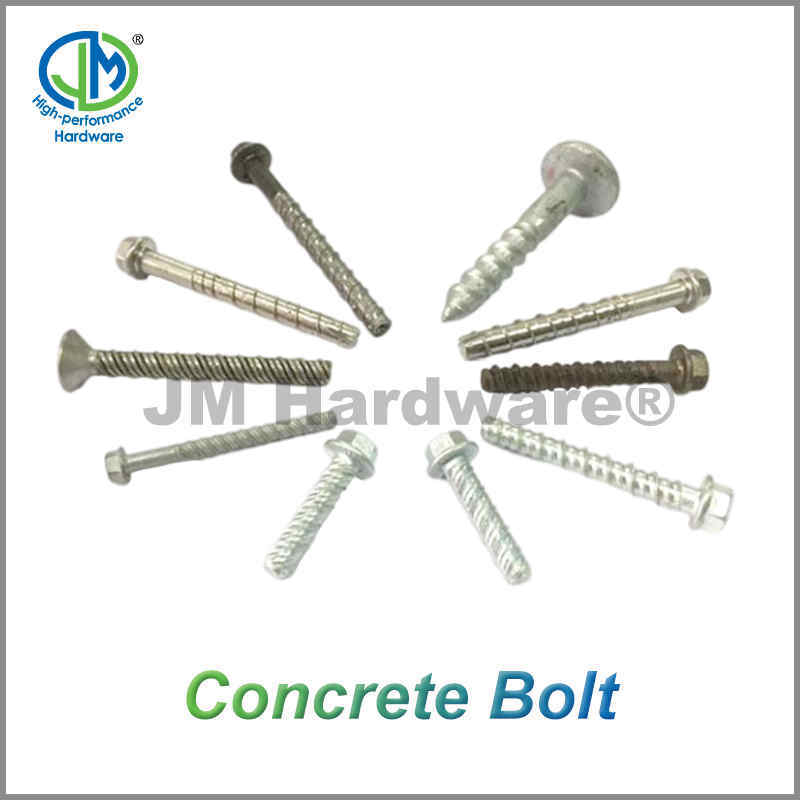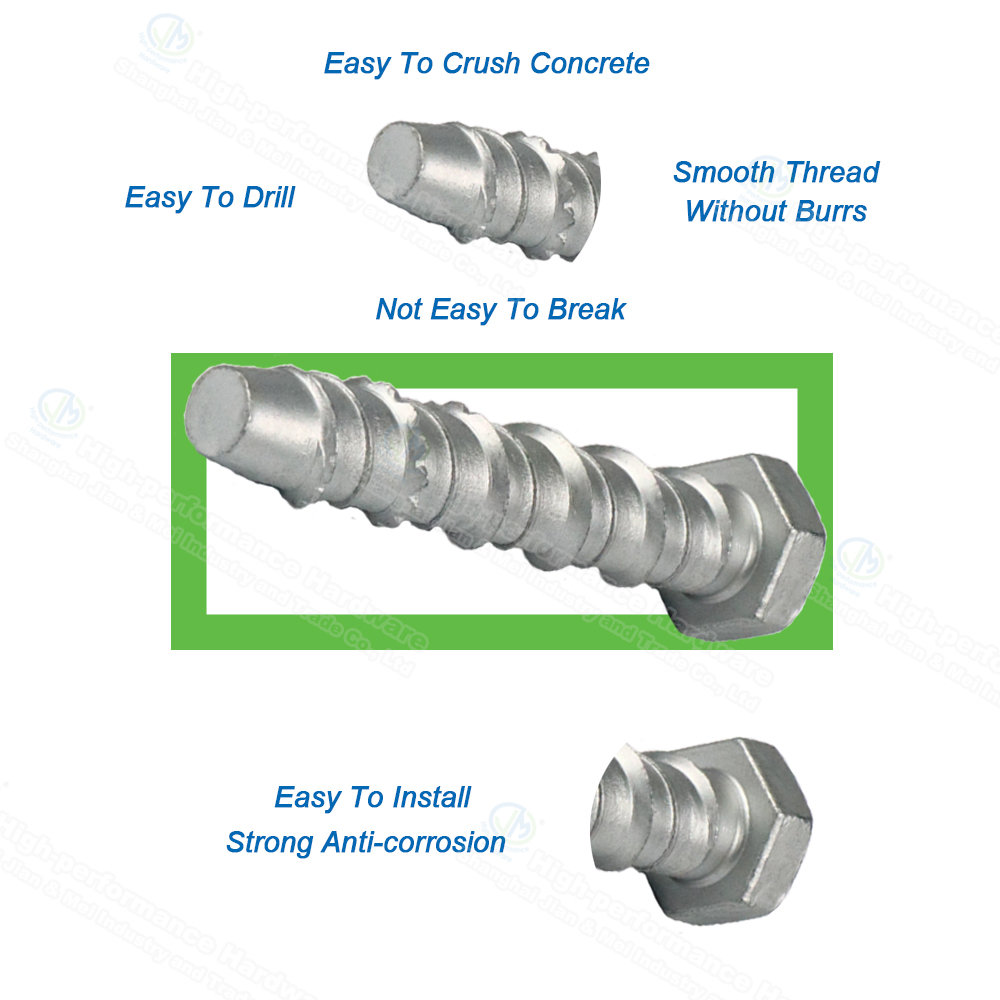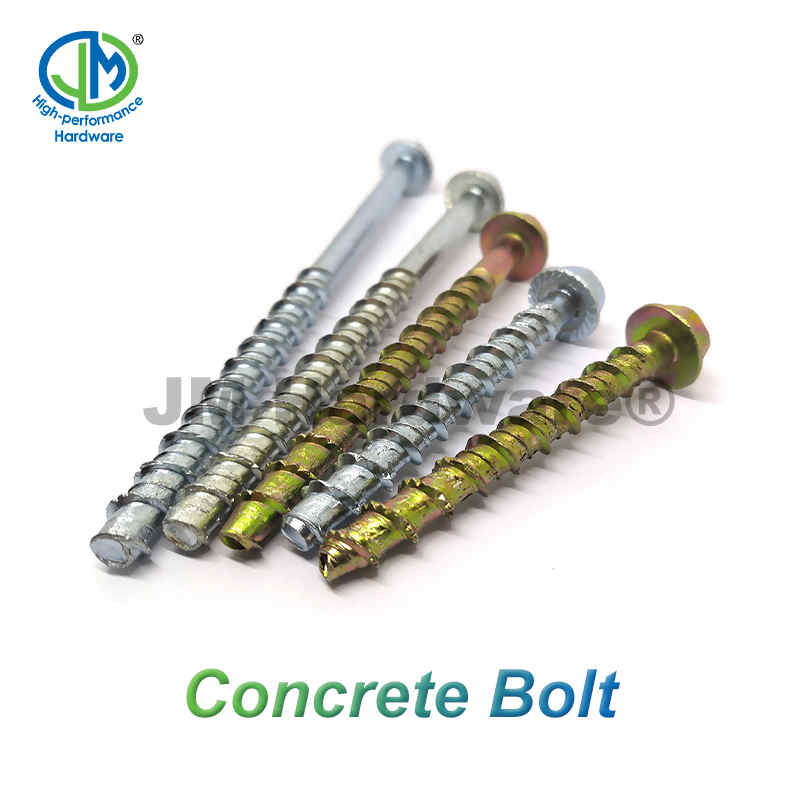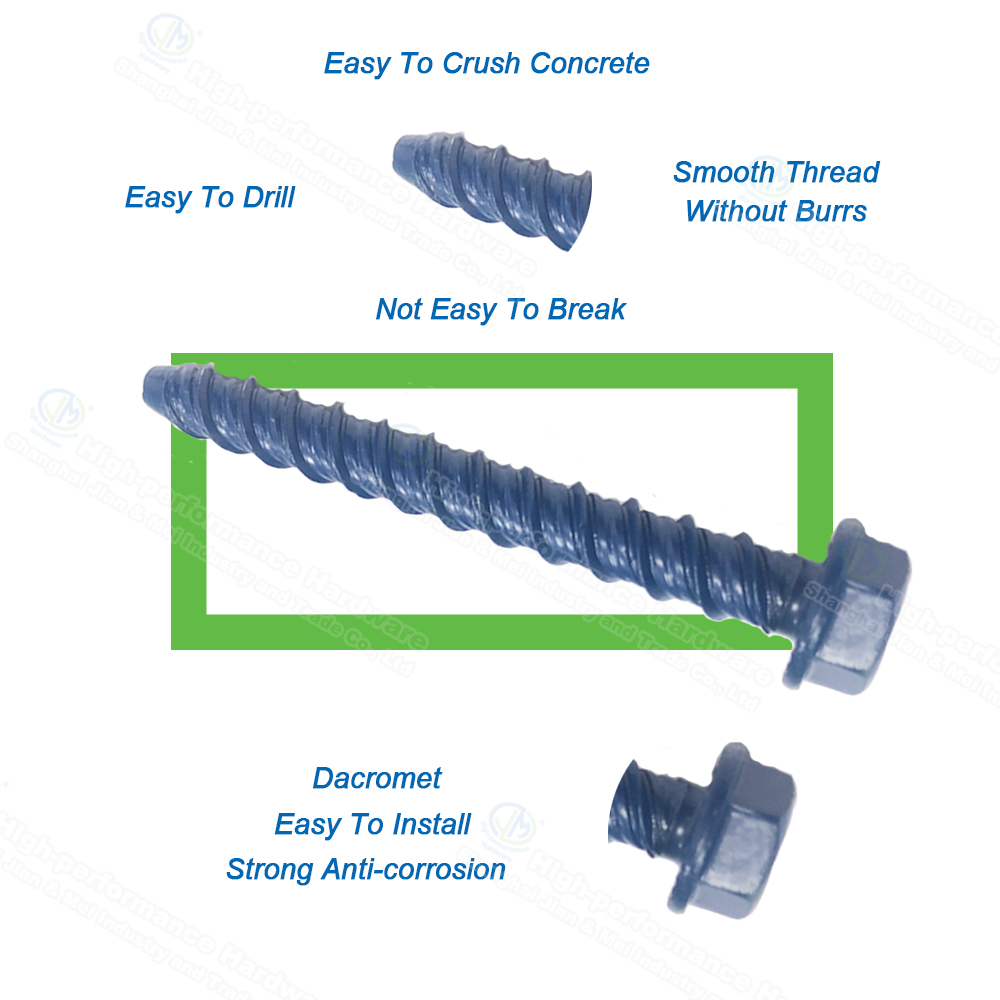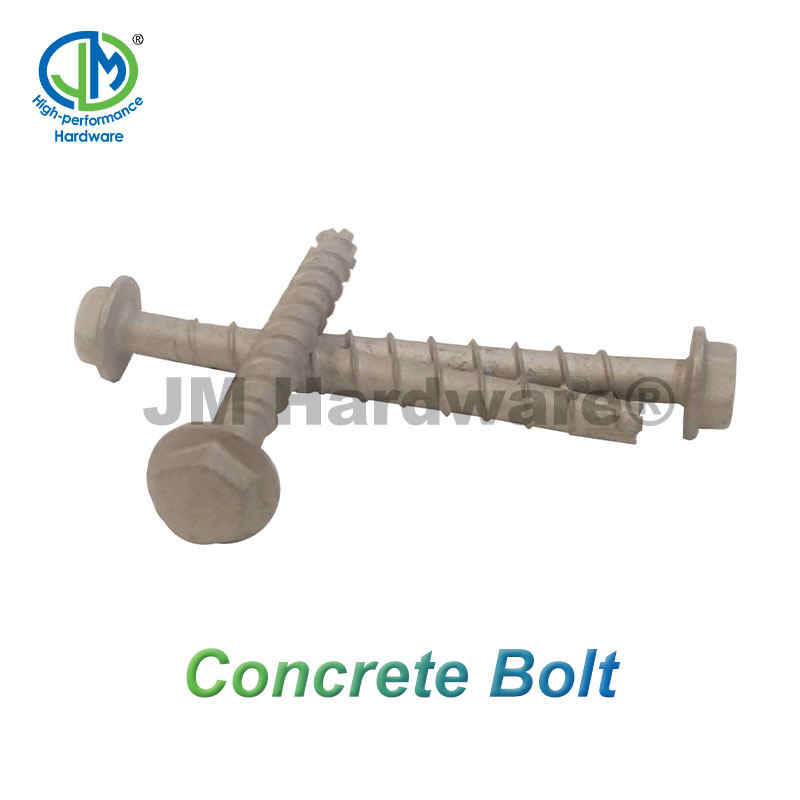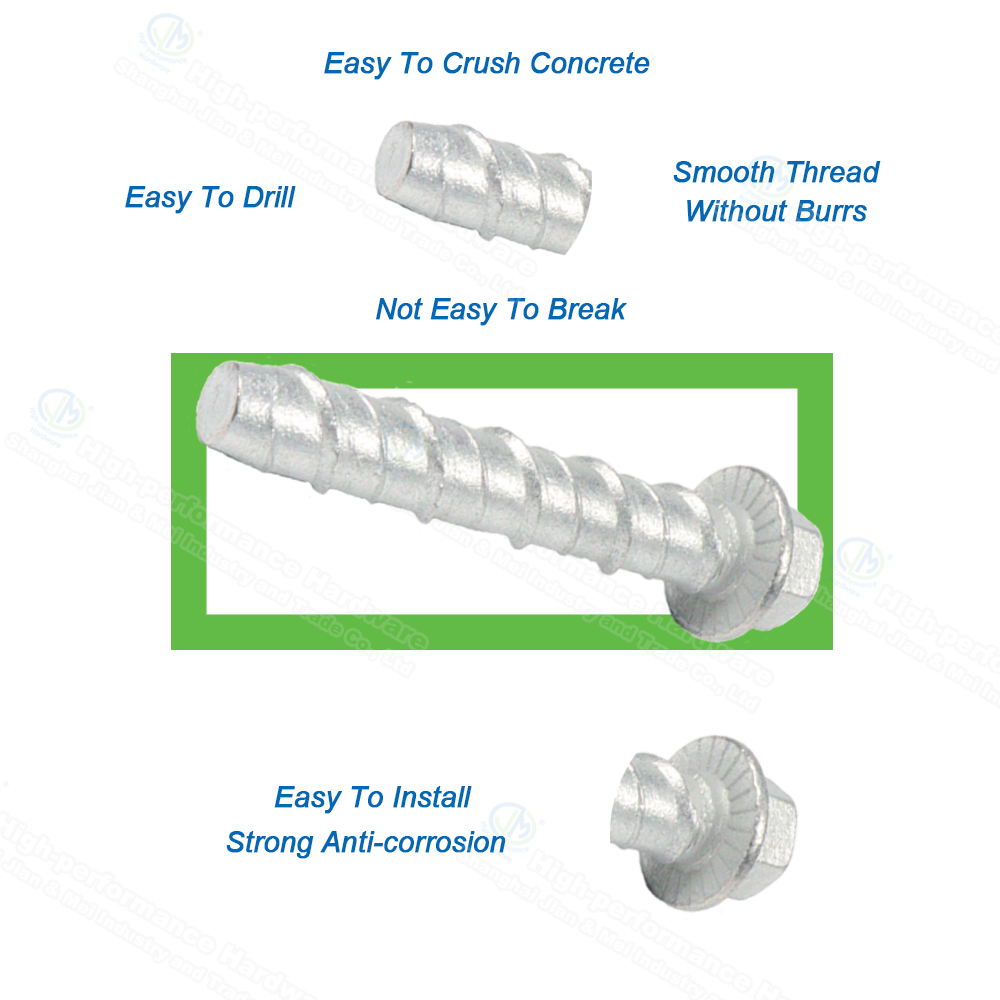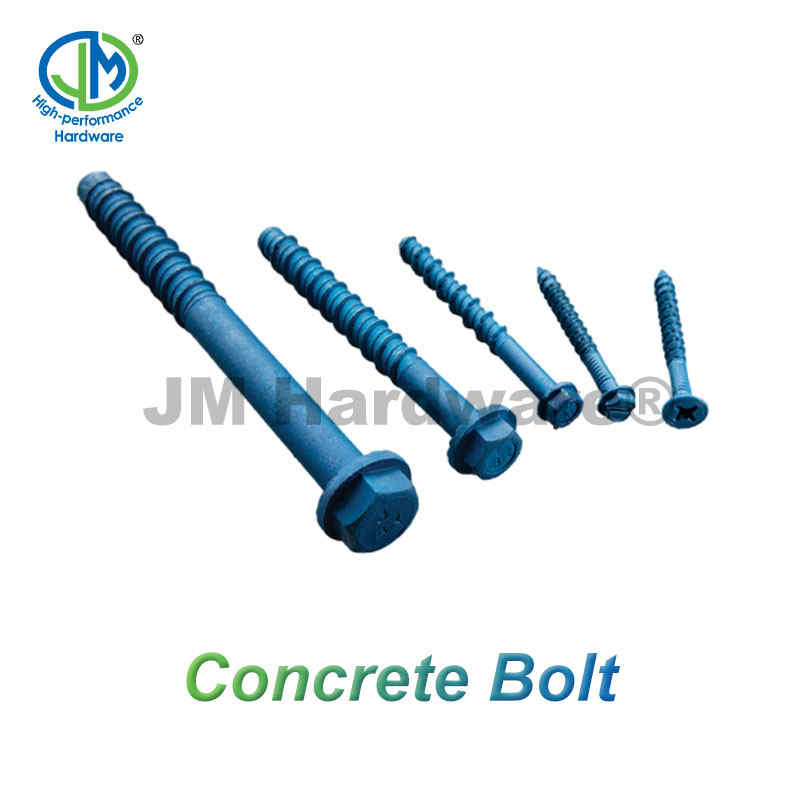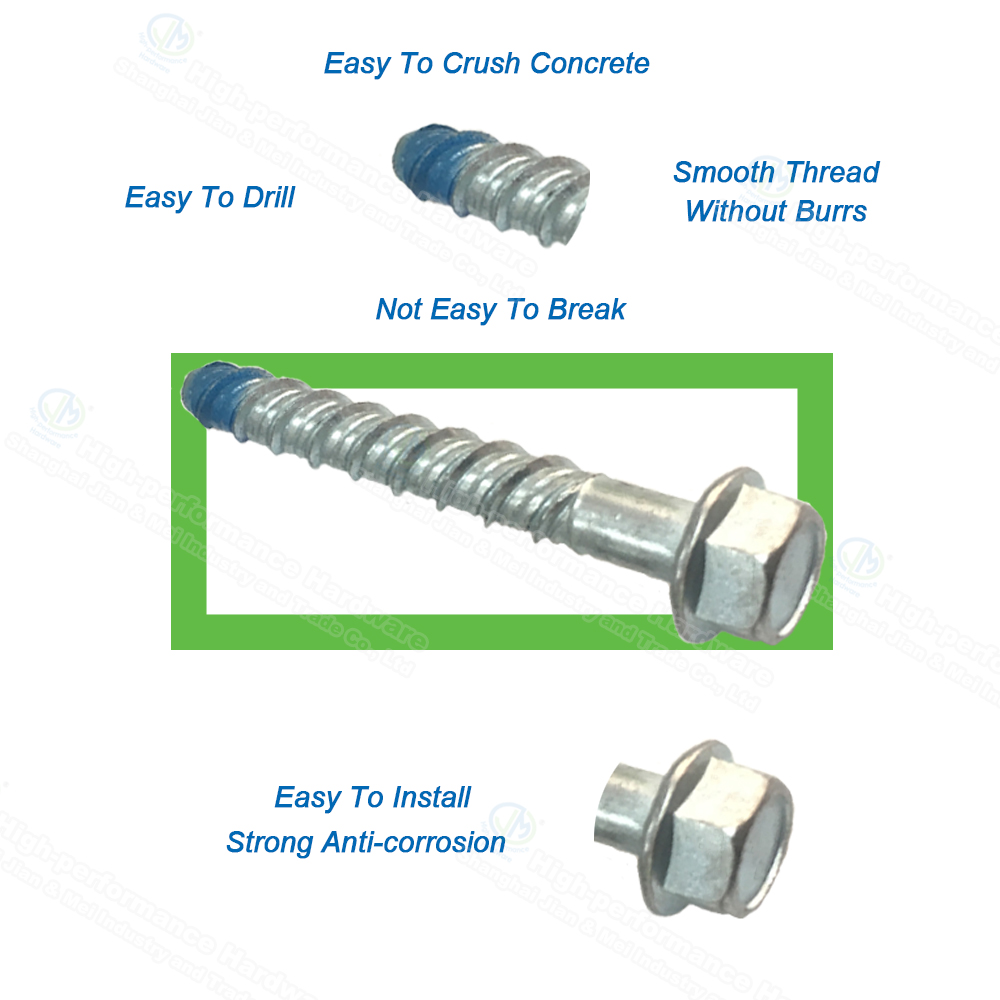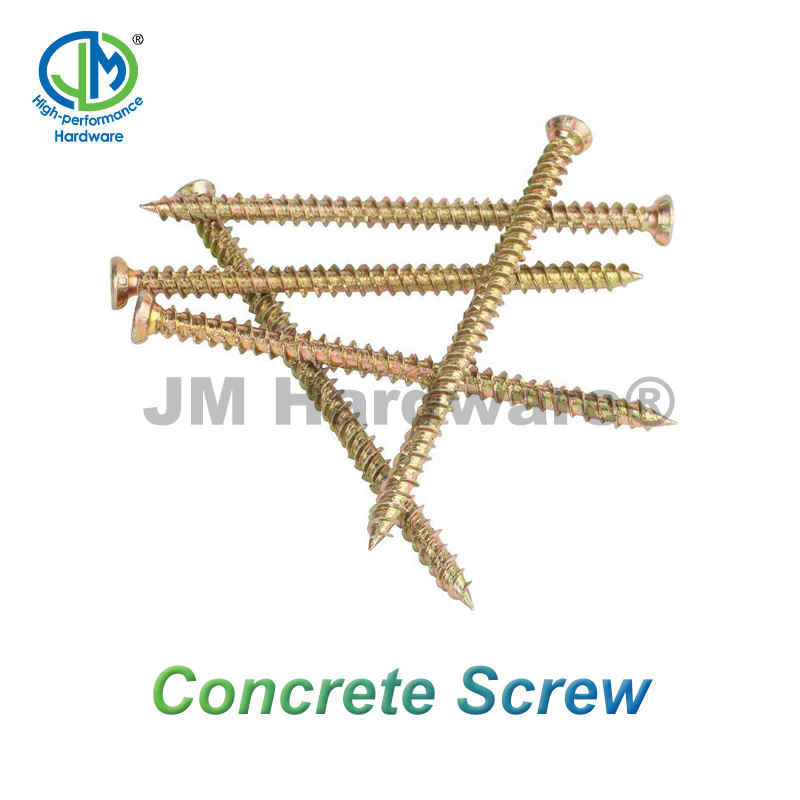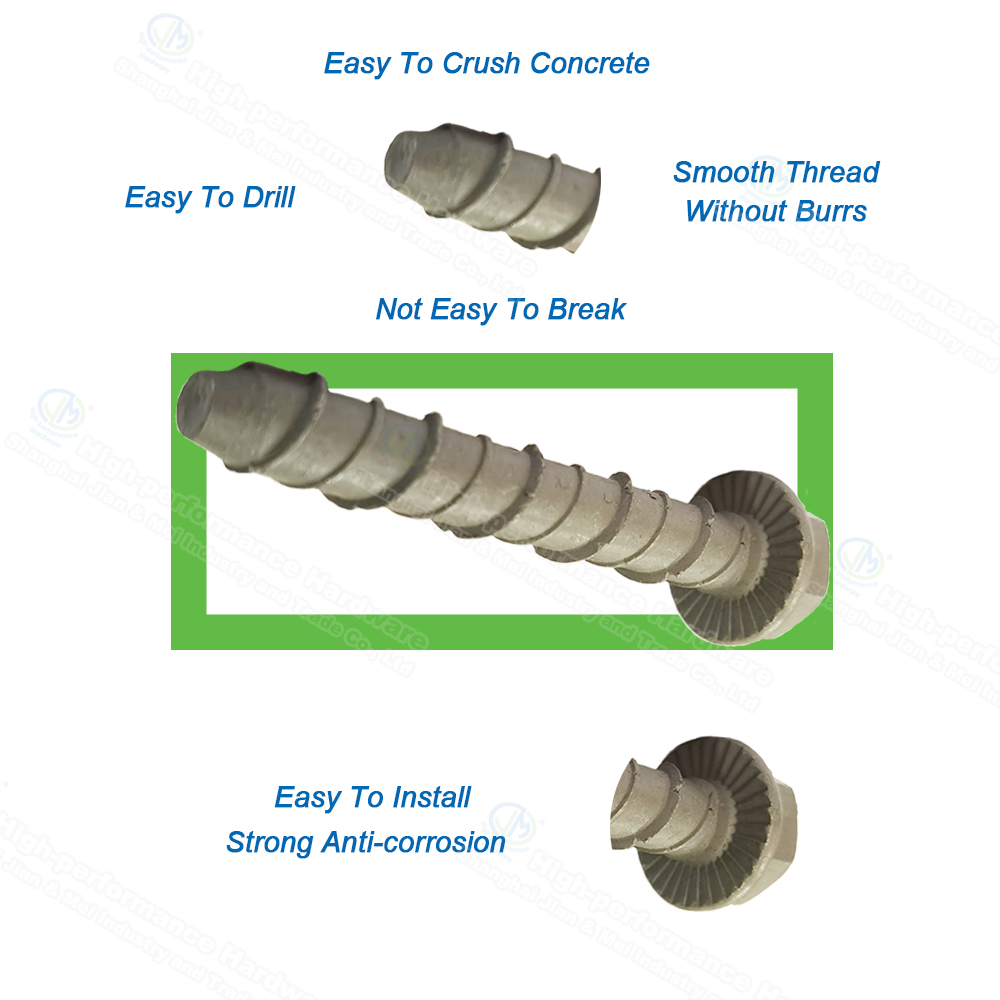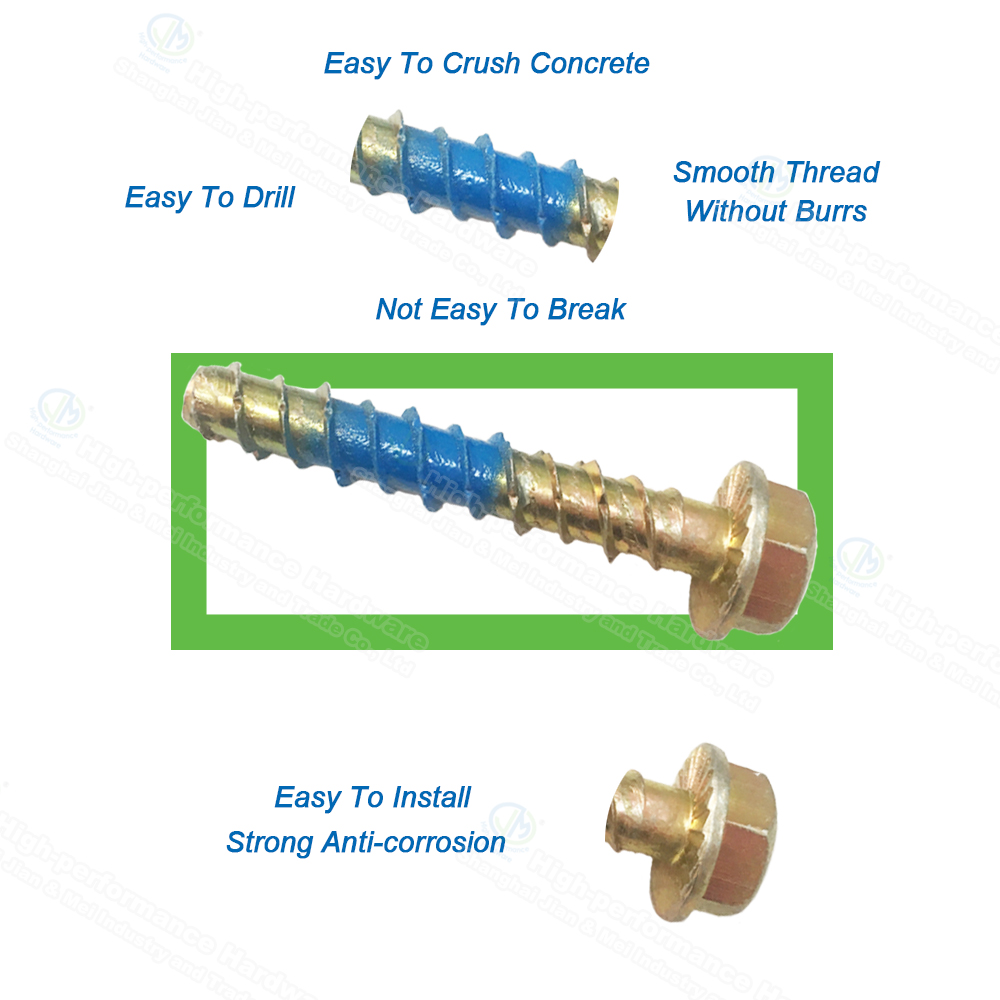 Contact Us
Concrete Bolt/ Screw Anchor/ Confast Screw/ Masonry Screw/ Consert Screw/ Wedge Bolt
Size:
M6-M16
Length:
30mm-200mm
Head type:
Hex flange head, CSK head, Pan head, Custom
Drive type:
slotted, torx, hexagon, custom
Tail type:
cutting point
Material:
Carbon steel C1022, Stainless steel, Alloy steel
Thread:
High-low thread
Finish:
Zinc Plated, Yellow zinc plated, galvanised, polishing, anodize,geomet, chrome plating, nickel plating, tinting, Powder coating, spray coating
Class:
8.8,10.9, 12.9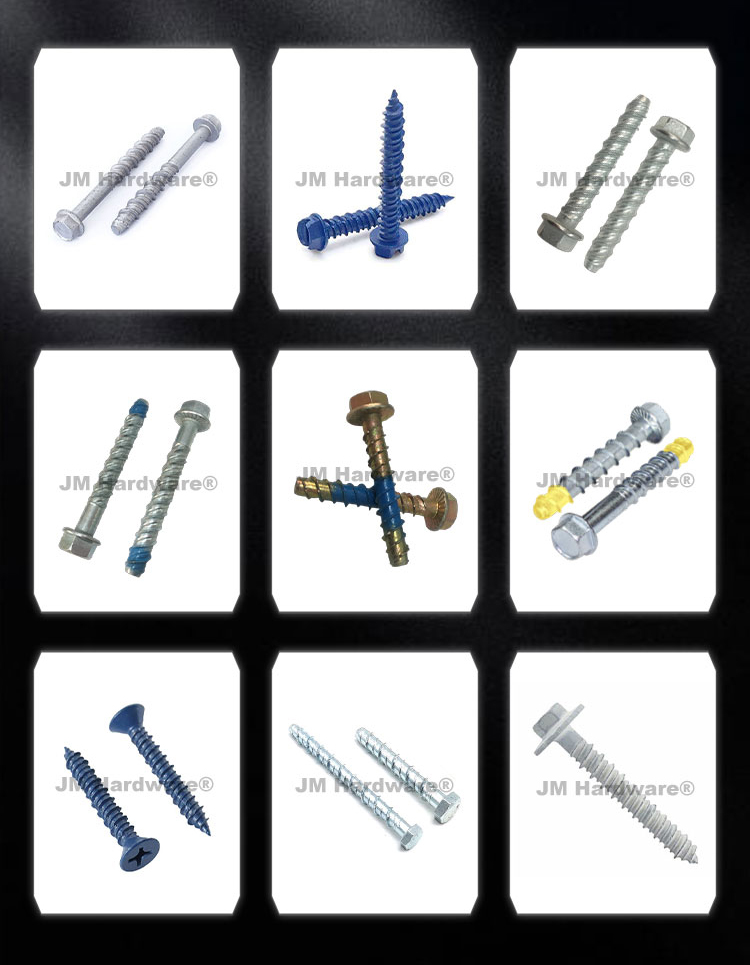 JM Hardware® carries a huge selection of bolt sizes, lengths, materials and finishes. If you cannot find the size you need, please contact us for a quote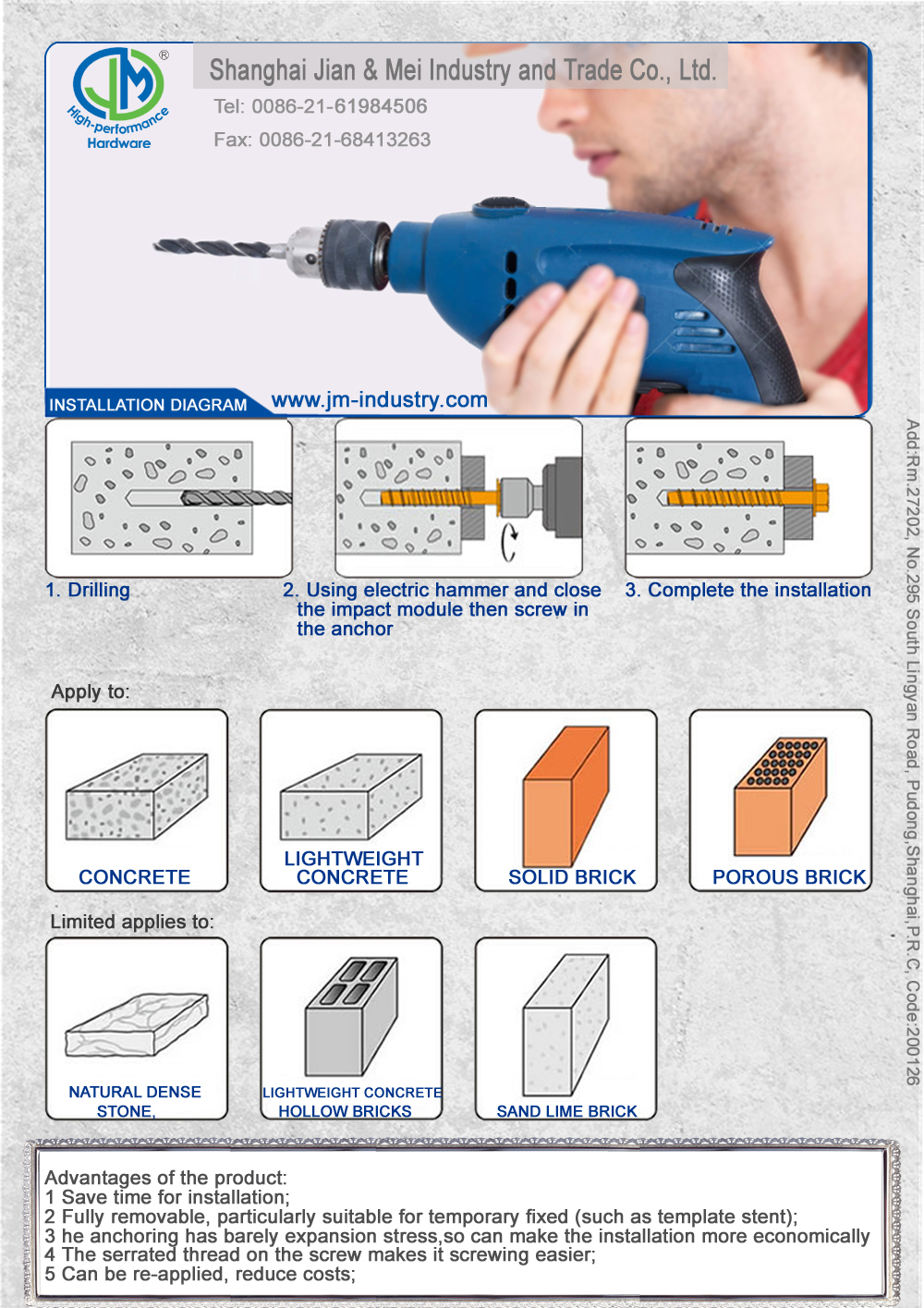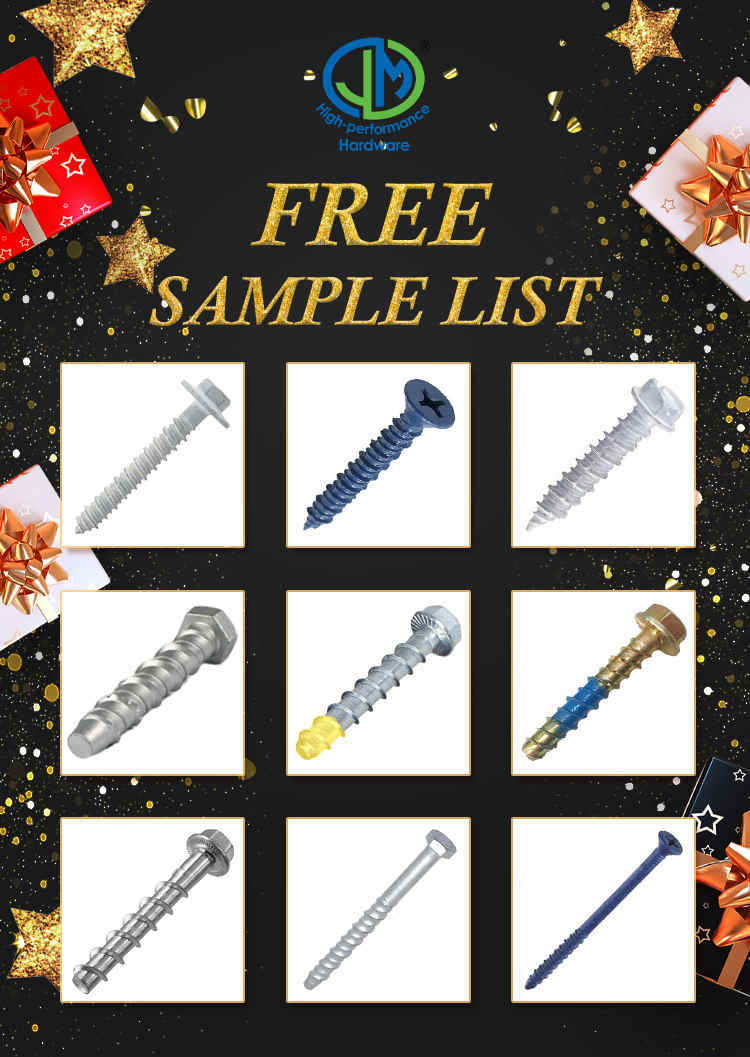 JM Hardware® provides free samples of the above products during the Black Friday event. If you have any demand for these products, please contact our email: xarella.huang@jm-industry.com
Brand Story
The inception of the JM Hardware® brand was a profound moment born out of a fateful business trip. During a trip abroad, I was flipping through a newspaper when I came across a heartbreaking story about a steel building that had collapsed due to a batch of substandard fasteners. The tragic images and casualties left an indelible mark on me.
From that moment on, our commitment to putting product quality first became a cornerstone of JM Hardware®, engraved in the DNA of our brand. With this unwavering commitment, JM Hardware® set out to set a new standard for quality. We spend countless hours researching, developing, and testing each product to ensure that they not only meet industry standards, but that they also meet the company's own higher standards. This journey is driven not by profit, but by a deep sense of responsibility - the responsibility to protect a person, a family, a community.
JM Hardware® stands as a testament to that enduring commitment. Every product that bears the JM Hardware® name will be synonymous with excellence, durability and safety.
JM Hardware®: the combination of quality and integrity.
-------- Mrs. Xarella Huang
General President
Production Quantity Each Year
Supply one-stop service & DDP term

Help clients purchase other products,realize door-to-door service to make international procurement more convenient

Strong R&D Capability

Successfully developed 850+ new products in past 18 years

Mature & professional service teams

Provides 24/7 online and offline services for you,70%stuff have 5+ working experience in JM

Rich Industry Experience

JM has the rich experience to supply the high quality fasteners to Project contractor

Registered trademarks

Register JM Hardware ® in USA,EU ,UK,Quality Assurance

Rich export experience

18 years exported to 85+ countries
JM Hardware conducts product quality control in strict accordance with ISO 9001 standards to ensure that our products meet high quality standards. Below are our five quality control steps:


Step 1: Incoming material control

We carry out strict incoming material control by conducting dimensional tests on each batch of raw materials and checking the raw material reports from the steel mills. This ensures that the raw materials we use are within specification and provide a reliable basis for production.


Step 2: First part control
After the mold assembly is completed, we conduct a thorough inspection of the first production part and make detailed records. Only qualified first parts can be released to start mass production. This step ensures that the quality of the product meets the standard at the beginning.


Step 3: Self-inspection by workers during mass production
In the mass production process, we require the workers of each machine to carry out self-inspection every hour. If any substandard product is found, we will immediately pick or scrap the production within this hour until the problem is solved and meets the standard of conformity, and then we can continue the production. This self-inspection mechanism helps to find and solve problems in time during the production process.
Step 4: QC inspection during mass production
In addition, every two hours, the quality inspection personnel will carry out random inspection on the products of each machine. Only qualified products can continue to flow into the next production stage. If non-conforming products are found, we will take the same selection or scrapping measures and ensure that the problem is properly handled. This helps provide additional quality assurance.


Step 5: Finished product control
Finally, after each batch of finished product is made, we conduct random inspections in proportion to the order. Qualified products will be packaged and put into storage, while unqualified products will be returned for further analysis and rectification. We insist on ensuring that the quality of our products meets high standards so that we can provide reliable products to our customers.


Step 6: Non-conforming goods management
According to the process of JMhardware's non-conforming products handling, pick or scrap. And the problem of rectification and tracking reasons to ensure that non-conforming products will not flow into the market.

These quality control measures constitute JM Hardware's quality management system, and we are constantly striving to improve the quality of our products and are committed to meeting the needs of our customers. We believe that quality control is the key to our success.
JM Small Box & JM Carton

Small bag with lable & Nature carton

Small box & Nature carton

90kgs Metal keg & Wood solid pallet

Wood case & Plastic keg with wood solid pallet

Fumigation wood pallets & Non fumigation pallets

Paper sleeve & Plastic bag + Non fumigation pallets

Wooden case& Woven bag + Non fumigation pallets

Container Packing
Our vision is to make JM Hardware® a well-known Chinese brand of high-end hardware parts in the world,and your cooperation will be an important part of it
If you do not see the product you need, or you have special customization requirements, you can send an email to xarella.huang@jm-industry.com. JM Hardware® will do our best to help you solve the problem
Hex
Head

Flat
Head

Screw
Size

Min
Embedment

Drill
Bit

TH 3112

TF 3112

3/16 x 1-1/4

1

5/32 x 3-1/2

TH 3116

TF 3116

3/16 x 1-3/4

1-1/8

5/32 x 3-1/2

TH 3122

TF 3122

3/16 x 2-1/4

1-1/2

5/32 x 4-1/2

TH 3126

TF 3126

3/16 x 2-3/4

1-1/2

5/32 x 4-1/2